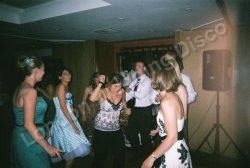 As a company we made a conscious decision not to pay for advertising- we prefer to work on the principle that happy guests are the best advertising we could hope for. Below are a few comments we have received from previous customers or guests who have attended functions where we have worked.........these are all real quotes- we could have made them up, but that wouldn't be very honest. More detailed references can be provided if required.

We had a great wedding day, the disco was fab, music was spot on and everyone said what a good time they had.
Thank you so much.
HM, Thornton Heath.

Thank you so much for everything on the 5th, it was super and exactly what we wanted. You even managed to get my Mum dancing!
So many of our friends have also commented on how much they enjoyed it. We will of course recommend you to anyone who asks.
PL, Chelsea.

Thank you very much for the music and the lights- it was excellent!
I will recommend you to everyone!
DS, London.

Just a quick email to thank you for doing brilliantly in difficult circumstances on Saturday. You kept the dancefloor busy all night which is exactly was was required.
J and S, London.

Thanks very much for a great evening. Everyone commented on how excellent the disco was and what a great effect the uplighters created.
Victoria and I will be recommending you very highly.
P & V, Clapham.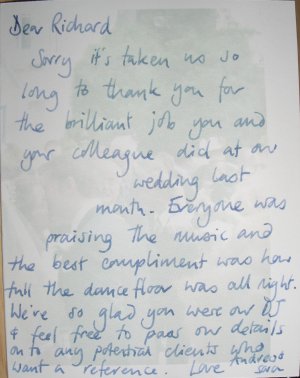 Just wanted to send you a note to say thanks so much for doing a great job on our wedding day on Friday 18th December at Pembroke Lodge. We thought you and your colleague did a great job and had the right mix of 'killer indie tunes' and 'wedding cheese' to suit everyone.
A few people made comments about how good and varied the music was and we think that the fact that most people were up dancing for most of the night was proof of that.
We would definitely recommend you if asked.
N & J, Richmond.

Hi Richard, you DJ'd at our wedding in June- thanks again for making it such a great day.
Everyone we spoke to at and after the wedding said how amazing the music was. All night the dance floor was packed.
Thanks again for all your hard work, the sound you rigged up in the garden was also excellent.
S & A, Hampstead.

Thanks for last night. The music down went well and everyone had a great night.
Mblox, Corporate Party Wembley- Stadium

Sorry it's taken me so long to write this email, but I just wanted to say 'thank you' for such a great job at our party on the 19th in Maida Vale. We thoroughly enjoyed it, the music was great and you worked seamlessly in the background!
We have had great comments back from people, and everyone was up for a dance which is the most important thing.
K & S, Ealing.

Thanks very much for the great DJing, we had a great time (as our aching feet told us the next day, and all the photos have shown!).
Also, after my evident skill with a plastic guitar (and at guitar hero), I intend to learn the proper guitar this autumn!
Cheers A & R, Ewell.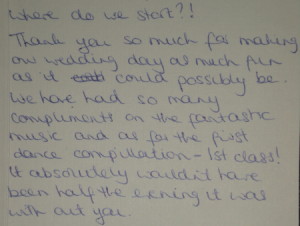 Hi Richard, We're so sorry we haven't emailed sooner to say thank you, not sure where the time has gone! So...
Thank you so much for such a fantastic disco, you got it absolutely spot on. We were so pleased with how the evening went and the dancing certainly proved you were a hit! Thank you again for helping to make our wedding day so memorable.
A and T, Kingston.

Just a quick thank you for the music for our wedding at the Albert on the 9th. Compliments all round from myself and Steph, the pub staff and the vast majority of the guests as well. All seemed to go rather well despite my somewhat spontaneous desire to mime Bohemian Rhapsody. I blame the Young's......
IT, Kingston


Hi Rich, I just wanted to email to say thanks so much for doing a wonderful job at the wedding! It was exactly what we wanted and everyone said that they had so much fun!!
We had a wonderful day too and are really grateful for the job you did!!
Thanks!
S and I, Croydon

I know its a bit belated but we just wanted to say thank you for DJing at our wedding on the 1st December. It was a fab evening with even my uncle who I've never seen dance go on the dance floor and comment to me how good the music was!
C and A, Reading.

I recently went to a 30th Birthday where you DJ'd (5th Jan at the Walrus in Waterloo) and I thought you were fab! Iíd love to book you for my husbandís 30th if possible.
ND, London.

You sold yourselves too well to Vics last weekend! Can we book you for the wedding on Friday the 22nd December in Gloucestershire?
JG, Earls Court.
(Yes, we did go to Gloucestershire.)

My new wife and I would like to thank you for helping make our wedding day such a success. Your disco was a big hit and I have since had many people raving about the great music. In addition to the event itself, you were very professional during the preparation. You were flexible to our requests and worked extremely well with the live band to provide a slick and enjoyable event. Couldn't have gone better. Thank You.
AM, Caversham.


You did a stirling job and everyone thought the disco was fabulous.
AW, Richmond.

Just to say thanks for the disco- quite a few people commented on how good it was!!
JH, Farnham.



The testimonials above are from a selection of events we have worked at over recent years- during this time we have performed at a wide variety of venues including-

The Institute of Contemporary Art
The Park Lane Hotel
Warren House, Kingston
Templeton Estate, Roehampton
Batlers Green Farm
Ealing Golf Club
Wembley Stadium
The Bleeding Heart
Wessex Hotel, Winchester
Kingston Rowing Club
Richmond Hill Hotel
Northcote House
Hilton Hotel Croydon
Easthampstead Park
Malden Golf Club
The Albert, Kingston
Dulwich College
Radlett Cricket Club
The New Mill Eversley
The Elvetham Hotel
Pembroke Lodge, Richmond Park
Prince Alfred & Formosa, Warwick Avenue
Farnham House Hotel
Durrants House
Hampton Court House
Burhill Golf Club
The Savile Club, Mayfair
Frensham Pond Hotel
Rose Hill School, Wootton-Under-Edge
Ewell Court House
Tudor Barn, Burnham
Hawker Centre, Kingston