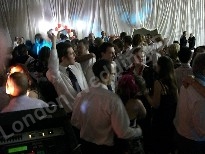 We started doing this because we like music, and we believe that this is pretty important- if your DJ looks like he's having a good time, your guests are more likely to do the same.

However we pride ourselves on being different to other mobile discos you may have seen before.

So what makes us different to other companies?

Well, we don't want to spoil the illusion, but the main thing we do is play songs- but we play good ones. Really good ones.

But we appreciate we are also providing a service, and will work with clients to make each event as bespoke as possible. If you wish we will meet with you before your event and you can select as much music as you like, or alternatively leave it to us to judge it during the event.
We also like to know what you don't like, so we can try and avoid playing it on the big day.

Want your first dance last? Or in the middle? Or not want a first dance at all? That's just fine.


When you book us, you can be sure we turn up for your event- we're not an agency who passes work on to other DJ's, so you know that the person you speak to from your initial enquiry will be the same person that turns up on the night.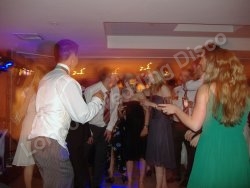 We have experience of almost every type of event you can imagine- from Wembley Stadium to Working Mens Clubs, Liverpool to Gibraltar. We've worked at events and in locations that your average disco probably hasn't, and we learnt our trade at a major venue in Sheffield working on concerts for Robbie Williams, Reef, even Boney M. Although we have doubts as to whether they were a Boney-fide Boney M.

We can also work our set up times around the event- if you want all the gear set up before guests arrive we can do that too. As someone once said "Anything is possible". Pretty much.

We do have Public Liability Insurance and PAT tested equipment, we do confirm all bookings in writing, we do contact the venue direct so you don't have to ask them questions for us, and we do call you a week before the event, just to make sure you are happy with everything.
We've been doing this in various parts of the country for over 10 years, and during this time we have learnt what makes a night a night to remember.

For those of you of a "technical disposition" we run Crown amplification, RCF/Mackie speakers, Denon CD players, and our light show includes DMX Scanners and Moving Heads, LED fixtures, Oil Wheel Projectors, a Mirror Ball, and a giant Mirror Ball when required. Each rig is tailored to the venue so not to overpower or be underpowered.

We don't have a price list or a range of "packages" - we quote for each event based on your specific requirements and prefer not to adopt a "one size fits all" approach. We're not the cheapest, we're not the most expensive, but we believe that we provide exceptional value for money.

Like we said earlier, it's not rocket science, we just think of it as providing a good service, and it seems to work.
Or at least that's what the people in the picture above seemed to think.



For enquiries please call 07961 346313 or email